Angola Automotive Accessories by Borla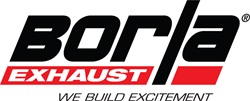 Borla automotive parts are available to you in Angola, IN at Tri State Line-X & Accessories! Find all the Borla accessories you need including Cleaner/Protectant, Exhaust Clamp, Exhaust Collector, Exhaust Filler Plate, Exhaust Header, Exhaust Pipe, Exhaust Pipe Adapter, Exhaust System Kit, Exhaust Tail Pipe Tip, Muffler, Turbocharger Down Pipe, Valance, and much more!
About Borla
BORLA PERFORMANCE INDUSTRIES is the pioneer and leader in the design and manufacture of stainless steel performance exhaust. We began two decades ago as a manufacturer of exhaust systems for such "concours classics" as Rolls-Royce and Ferrari cars and have evolved into the premier manufacturer of today's performance vehicles for the street, off-road, and racing.
About Tri State Line-X & Accessories
A family owned and operated business that was established in November of 2003. Tri State LINE-X and Accessories has grown to become the go to solution provider for automotive aftermarket products in the Tri State area. Covering new and used car dealerships over a 1100 sq. mile area Tri State LINE-X has become a trusted vender to wholesale and retail customers for almost 9 years. LINE-X protective coatings, Spray On Bedliners, is the core of our business from which all our other products followed. We offer a full line of truck accessories including ARE and LEER truck caps and tonneau covers. Thousands of bolt on products for trucks, cars and SUV's.