Angola Automotive Accessories by Mallory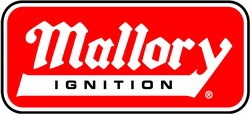 Mallory automotive parts are available to you in Angola, IN at Tri State Line-X & Accessories! Find all the Mallory accessories you need including Carburetor Fuel Pressure Regulator, Distributor, Distributor Cap, Distributor Cap and Rotor, Distributor Cap/Rotor/Points/Condenser, Distributor Drive Gear, Distributor Rotor, Fuel Pump Electric, Ignition Coil, Ignition Control Module, Ignition Conversion Kit, Ignition Crank Trigger Kit, Ignition Kit, Ignition Wire Harness, Spark Plug Wire Set, and much more!
About Mallory
The Prestolite Performance Group is the only stop you need to make for all of your automotive performance needs. We are a manufacturer, not just a re-distributor of products. We conceptualize, develop, manufacture and market our products in our own facilities, where actual enthusiasts are involved in the process first-hand. Our alliances with proven top engine builders and performance product development specialists have allowed us to offer the most high-tech products available. With a few diversified brands in our family, we offer a wide spectrum of race-proven products to make your car look better and go faster. From ignition products to gaskets, suspension, clutches and everything in between, weve got your performance needs covered. What sets us apart as a company in the automotive industry? Many things come to mind, but most importantly is our knowledgeable team of employees. They are qualified and dedicated professionals who are experts in the automotive industry, and most are racers and enthusiasts themselves. People with first-hand interest and knowledge of this industry, who create and apply new concepts based not only on research and numbers, but on personal experience and hands-on know-how. Our staff of enthusiasts applies their knowledge to product engineering, research and development, product management, and marketing services. Members of our technical service group have an average tenure exceeding fifteen years. Thats not just dedication to a career, thats commitment to something they truly believe in.
About Tri State Line-X & Accessories
A family owned and operated business that was established in November of 2003. Tri State LINE-X and Accessories has grown to become the go to solution provider for automotive aftermarket products in the Tri State area. Covering new and used car dealerships over a 1100 sq. mile area Tri State LINE-X has become a trusted vender to wholesale and retail customers for almost 9 years. LINE-X protective coatings, Spray On Bedliners, is the core of our business from which all our other products followed. We offer a full line of truck accessories including ARE and LEER truck caps and tonneau covers. Thousands of bolt on products for trucks, cars and SUV's.