Angola Automotive Accessories by Air Lift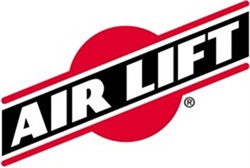 Air Lift automotive parts are available to you in Angola, IN at Tri State Line-X & Accessories! Find all the Air Lift accessories you need including Air Helper Spring Spacer, Air Line Fitting, Air Pressure Gauge, Air Pressure Switch, Air Spring Solenoid, Air Suspension System, Air Tank, Suspension Air Bag / Bellows, Suspension Air Compressor, Suspension Air Compressor Clutch, Suspension Air Compressor Kit, Suspension Air Line Kit, Suspension Air Spring Kit, Suspension Load Leveling Kit, Suspension Strut Assembly Kit, and much more!
About Air Lift
Air Lift Company has been developing air spring suspension products for more than 50 years. The original product, a rubber air spring inserted into a car's factory coil spring, was developed and patented in 1950. Air Lift Company has the longest history of product development dedicated solely to the development of light vehicle air suspension products. In the 1950s, Air Lift pioneered the use of air spring inserts in coil spring suspensions. Then, in the 1960s, the company introduced the use of sleeve-type air springs on pickup truck suspensions. Use of air helper springs and motorhomes followed in the 1980s with street rods and lowered vehicles the new target in the 1990s. Today Air Lift Company is a leader in aftermarket air suspension products which are an evolution of the company's engineering excellence and breakthrough development programs. In fact, Air Lift has won more SEMA awards for air spring development than any other company. Air Lift products are sold throughout the world and can be engineered to fit almost any coil or leaf spring suspension. The extensive product line includes everything from air helper springs for cars, vans and trucks to full air suspension replacement and control systems for recreational vehicles, emergency vehicles, hot rods and lowered performance vehicles. Air Lift also leads the industry in no-drill applications-kits that bolt on to the vehicle's frame, simplifying and speeding installation. Air Lift Company is committed to fulfilling the requirements of their quality management system: to develop, manufacture and continuously improve the highest quality products that fit, work and last. Their goal is to consistently provide products and services that meet or exceed the requirements and expectations of their customers.
About Tri State Line-X & Accessories
A family owned and operated business that was established in November of 2003. Tri State LINE-X and Accessories has grown to become the go to solution provider for automotive aftermarket products in the Tri State area. Covering new and used car dealerships over a 1100 sq. mile area Tri State LINE-X has become a trusted vender to wholesale and retail customers for almost 9 years. LINE-X protective coatings, Spray On Bedliners, is the core of our business from which all our other products followed. We offer a full line of truck accessories including ARE and LEER truck caps and tonneau covers. Thousands of bolt on products for trucks, cars and SUV's.