Angola Automotive Accessories by BD Diesel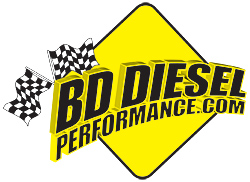 BD Diesel automotive parts are available to you in Angola, IN at Tri State Line-X & Accessories! Find all the BD Diesel accessories you need including Air Intake Kit, Air Intake Shutdown, Auto Trans Assembly, Auto Trans Control Unit, Auto Trans Rebuild Kit, Auto Trans Valve Body, Exhaust Brake, Fuel Injector, Fuel Injector Nozzle Set, Fuel Lift Pump, Torque Converter, Turbocharger, Turbocharger Boost Control, Turbocharger Intercooler Hose, Turbocharger Kit, and much more!
About BD Diesel
BD Diesel Performance is unique among its peers in that it designs, manufactures and distributes a wide range of products specifically engineered for performance diesel applications. Located in Abbotsford, British Columbia, Canada, BD's state-of-the-art facility covers 65,000 square feet, and employs 60 plus highly-trained individuals. The BD name became recognized in 1989, when the company introduced the first exhaust brake for the burgeoning diesel pick-up truck market. BD's roots, however, actually date back to 1972, when Valley Fuel Injection, Ltd. first opened its doors. Today, Valley Fuel Injection and BD Diesel Performance are one, with eight specialty divisions that focus on diesel power train components: Fuel Injection Calibration Department, Exhaust Brake Manufacturing, Electronic Circuit Design and Assembly, Transmission and Torque Converter Design and Remanufacturing, Turbocharger Design, Installation and Research and Development. BD's comprehensive approach to the diesel performance aftermarket ensures not only quality products, but educated dealers and satisfied customers. Thank you for your interest in BD Diesel Performance!
About Tri State Line-X & Accessories
A family owned and operated business that was established in November of 2003. Tri State LINE-X and Accessories has grown to become the go to solution provider for automotive aftermarket products in the Tri State area. Covering new and used car dealerships over a 1100 sq. mile area Tri State LINE-X has become a trusted vender to wholesale and retail customers for almost 9 years. LINE-X protective coatings, Spray On Bedliners, is the core of our business from which all our other products followed. We offer a full line of truck accessories including ARE and LEER truck caps and tonneau covers. Thousands of bolt on products for trucks, cars and SUV's.