Angola Automotive Accessories by Aries Offroad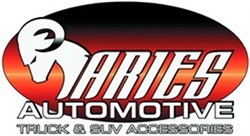 Aries Offroad automotive parts are available to you in Angola, IN at Tri State Line-X & Accessories! Find all the Aries Offroad accessories you need including Brush Guard, Bumper Corner, Bumper Guard, Bumper Light Mounting Bracket, Bumper- Front, Bumper- Rear, Cargo Area Liner, Fender Flare, Floor Mat, License Plate Bracket, Nerf/Step Bar, Nerf/Step Bar (Wheel to Wheel), Seat Cover, Tail Light Guard, Tow Hook, and much more!
About Aries Offroad
Aries Automotive hit the road running in 1997. We have since become an industry leader in providing the latest truck and SUV models with unparalleled tubular steel, aluminum, carbon fiber and ABS plastic products. We have furthered our success by recently expanding our operations in San Antonio, Texas, Harbor City, California, and Richmond, Canada. This has enabled us to meet the increasing demands for our unique and innovative products with on time delivery, at competitive rates. When searching for the latest model application, or simply a top quality automotive aftermarket product, call on Aries Automotive.
About Tri State Line-X & Accessories
A family owned and operated business that was established in November of 2003. Tri State LINE-X and Accessories has grown to become the go to solution provider for automotive aftermarket products in the Tri State area. Covering new and used car dealerships over a 1100 sq. mile area Tri State LINE-X has become a trusted vender to wholesale and retail customers for almost 9 years. LINE-X protective coatings, Spray On Bedliners, is the core of our business from which all our other products followed. We offer a full line of truck accessories including ARE and LEER truck caps and tonneau covers. Thousands of bolt on products for trucks, cars and SUV's.