Angola Automotive Accessories by AMP Research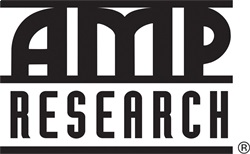 AMP Research automotive parts are available to you in Angola, IN at Tri State Line-X & Accessories! Find all the AMP Research accessories you need including Parking Brake Cable Bracket, Power Running Board, Power Running Board End Cap, Power Running Board Hardware Kit, Power Running Board Linkage, Power Running Board Motor, Power Running Board Mounting Bracket, Power Running Board Step, Power Running Board Trim Kit, Power Running Board Wire Harness, Truck Bed Tailgate Extension, Truck Bed Tailgate Extension Latch Kit, Truck Bed Tailgate Extension Mount Kit, Truck Step, Truck Step Mounting Kit, and much more!
About AMP Research
OPEN DOOR. STEP ON BOARD. AMP Research Power Step automatically deploys for easy stepping in and out of your high-riding truck. When doors close, this power-operated running board retracts safely out of sight with no loss of ground clearance. The AMP Research Power Step is built to perform in severe driving conditions and is backed by a 5-year/60,0000 mile warranty.
About Tri State Line-X & Accessories
A family owned and operated business that was established in November of 2003. Tri State LINE-X and Accessories has grown to become the go to solution provider for automotive aftermarket products in the Tri State area. Covering new and used car dealerships over a 1100 sq. mile area Tri State LINE-X has become a trusted vender to wholesale and retail customers for almost 9 years. LINE-X protective coatings, Spray On Bedliners, is the core of our business from which all our other products followed. We offer a full line of truck accessories including ARE and LEER truck caps and tonneau covers. Thousands of bolt on products for trucks, cars and SUV's.